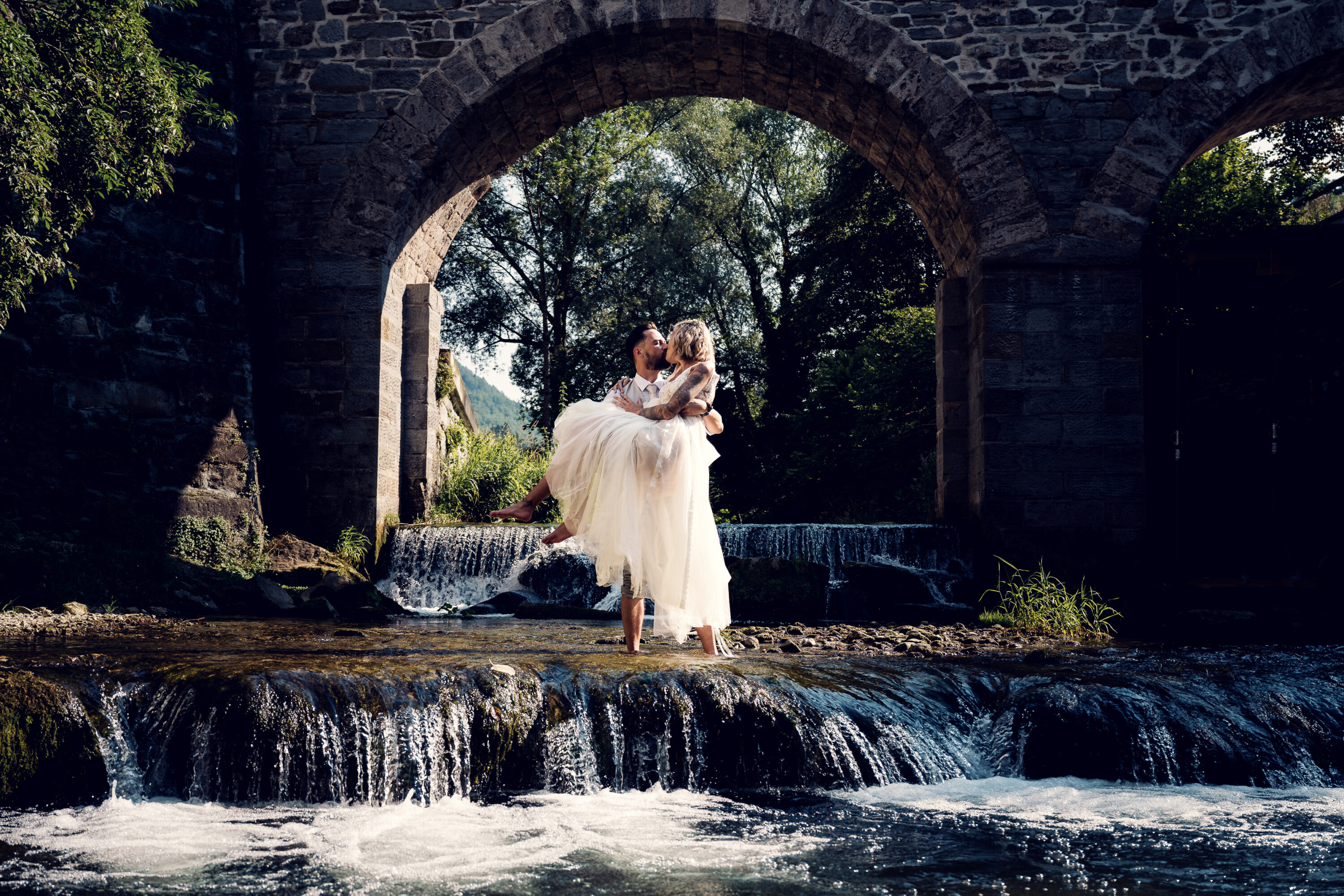 Today I would like to tell you about a beautiful summer wedding that I was allowed to accompany as a photographer. Sarah and Marcin got married in the Schwarzen Kuchl at the Rothschild Castle in Waidhofen/Ybbs and I had the pleasure to be there for them on this day and take their photos.

It was a bright summer day and the atmosphere was full of joy and love. Sarah wore a charming lace dress and Marcin looked incredibly charming in his suit. The wedding ceremony took place in front of the Schwarze Kuchl with great natural ambience. Afterwards, we took a walk around the area down by the Ybbs River and created some fantastic images. Especially the photos in the Schwarze Kuchl with atmospheric light and the final pictures in the Ybbs remain in memory.
I especially like the dramatic contrasts created by the incoming sun or the selective light indoors and the raw character of nature in the river, with the wedding couple in the foreground.

If you are also looking for a Wedding Photographer in Waidhofen/Ybbs or anywhere else, feel free to check out my selection and get in touch.
We became aware of Michael via the Internet, his portfolio convinced us immediately. On our wedding day, we just discussed the process with him at the beginning and from then on he had a 'free hand' and our complete trust. At the guest reception and ceremony, he was always discreetly in the background and so unobtrusive that you didn't notice you were being photographed, which took a lot of the nervousness away from us. During the actual shoot he had great ideas and also we felt really comfortable 'working' with him. Through his easy-going and extremely sympathetic manner, we were able to fade out everything around us and thus incredibly beautiful photos were created. We were thrilled with the first finished pictures we received from him after a short time. He has an excellent sense of location, mood and emotion, all of which was captured perfectly in the photos. We would choose Michael again anytime and can highly recommend him. It was a perfect day with perfect photos. :))

Sarah & Marcin